Mobile Printing Now available
No printer? No problem! Follow the steps below to print from your devices. Visit the library within 24 hours to make payment and pick up your copies. Printing prices are $0.15 b&w or $0.30 for color per page.
To print an existing email or a PDF attachment sent to you:
(attachments only and NOT a link to a document)
Forward email to:
For black & white prints only
occtpl-bw@printspots.com
For color prints only
occtpl-color@printspots.com
Go to the library and provide your email address and payment within 24 hours to pick up your documents.
Printing a document from an internet-based device
(original files or downloaded):
Begin by visiting  https://www.printeron.net/occtpl/print
Select the b&w or color printer and enter your email address.
Browse your device to find and upload the file you wish to print.
Click the green printer icon. You will see the status of your print job and a reference number.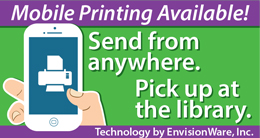 Print often? Our app makes it easy!
The app allows you to open documents and send them directly to the printer without having extra steps of saving and uploading.
To install:
Visit your device's 'store' for apps, install and launch the PrinterOn App.
Click "No printer selected". (Note: If you are already a user of the PrinterOn app and wish to select a new printer, just tap the button for the existing printer and you will be taken to the search page).
Click "Search" and enterOakland City Columbia Township or the library's zip code- 47660.
Select your desired printer (b&w or color.)
To print:
Documents: when viewing the document, click in the upper right corner and upload the document to the PrinterOn App.
Photos from your phone: open the app, click on "photo" and select a photo to print.
Select the printer and click the print icon.
Enter an email address and click on the check mark (you will receive a notice that the job started, and shortly after another message stating "Job Success").